Hi,
Today we have 2 announcements.
The 1st one is a bug fixing that some of you might experience last week.
We had the issue that we didn't detect early, that some users answers are cutting off if the answer length is long.
So, it looked like on the screenshot:
Now, everything is fixed and work as usual. You can provide to the bot the answer of any length and it will be fully displayed in your Slack summary.
The 2nd announcement is about the improvement we did for the recurrent surveys.
As you also could spot when standuply asks the survey questions with the response options which have a big length, whose options are cutting off in the dropdown select and user can't read the full text of it.
That was the issue from the Slack side, because of dropdown fix size. We were waiting for the improvements from their side but eventually decided to make something up ourselves.

Our support manager Daria wasn't able to refer to the Slack anymore answering your reporting of that issue and we created the dynamic logic to solve it.
Now, if you write down the survey option which is too long to be displayed in the dropdown, we'll automatically attach all options right below the survey question and you will just need to select in dropdown the corresponding later which defines the certain option.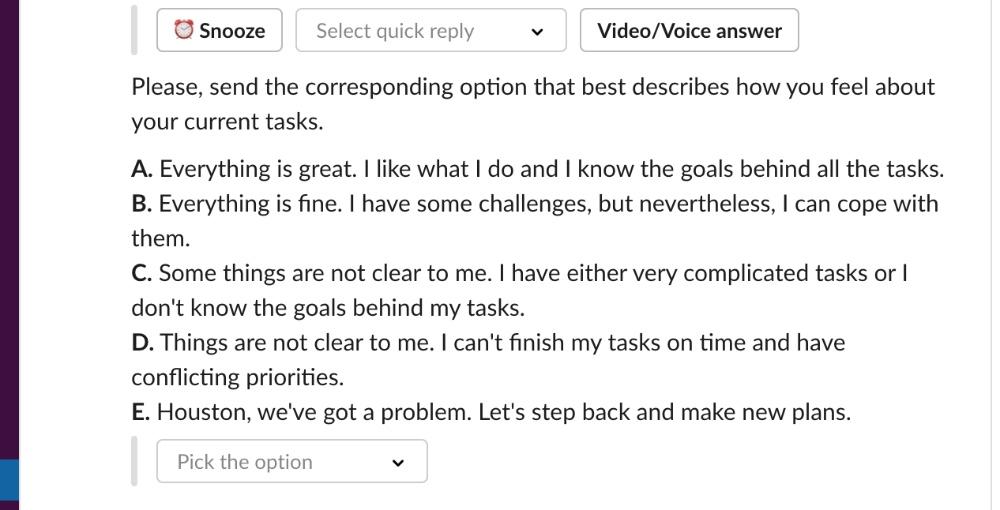 Thanks for your feedback and requests you send to us, It helps us to improve the product every day.
P.S.
We know that you are waiting for the JIRA integration for the new report templates. We work hard on it right now and plan to release it ... next week. 😀
P.S. P.S.
We are also released today on ProductHunt...again. 🧨
We'll so appreciate if you support us by giving your votes. 🙏