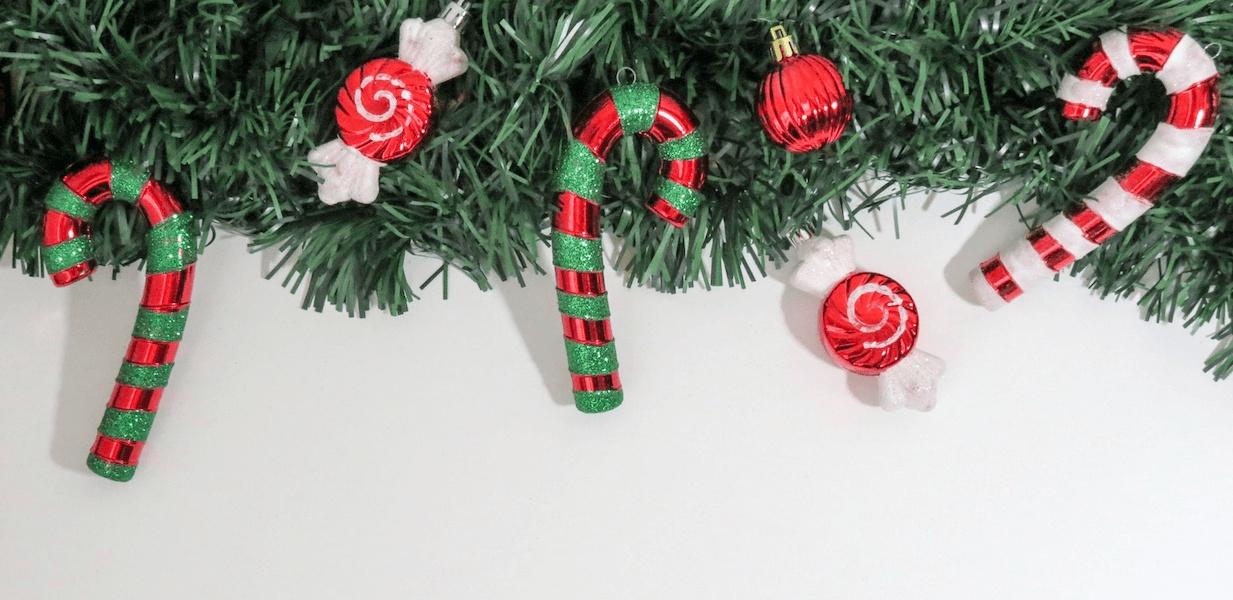 How was 2019 for you business-wise?
We, at Standuply, had a business breakthrough reaching thousands of customers like Slack, IBM, Adobe, Google and $700k in ARR.
Moreover, product-wise we have something great to brag about. These are the 12 New Year presents we prepared for you to help your business grow in 2020.
Wondering what can it be? See the list below with descriptions of every part of it.
1. Educational hub. 2. Integration with Asana. 3. Billing history and invoicing at the Standuply website. 4. The Apphome tab in Slack. 5. Answering before a standup time. 6. Adding answers to the upcoming standup meeting. 7. Autoresponder. 8. Switching off charts for surveys. 9. Multi-select dropdown for task responses. 10. Multi-choice survey questions. 11. New Standuply website. 12. Bonus.
Sounds exciting, right? 🙂
Let's dive deeper to see in detail how all of the features above can help.
Educational Hub
Did you ever feel the need to provide your team with the knowledge from someone who knows it in and out? We often deal with uncertainty, complex projects, and human interactions. However, many of these things aren't new, and there hundreds of experienced people who know how to deal with it successfully.
We've built an educational hub with world-class experts in Standuply to help you lead the team to success. Hundreds of experienced mentors are on board in Standuply and are ready to help your team grow. Moreover, if you feel you have the experience to share, we welcome you to join the hub as well.
Here's how it works.
When you log in to your account in Standuply, you'll see the "Education" tab in the top menu. From there, you can manage your consulting requests. At the moment, you can ask video questions to experts, but early in 2020, video conference calls will also be available.

Do you have a painful question? Let's find a person to help you and your team.
Click on the "Ask video question" button and choose a mentor with the needed expertise. Then you will have to record a video with your question. Mentor reviews your request and sends back you a video answer with the insights you need.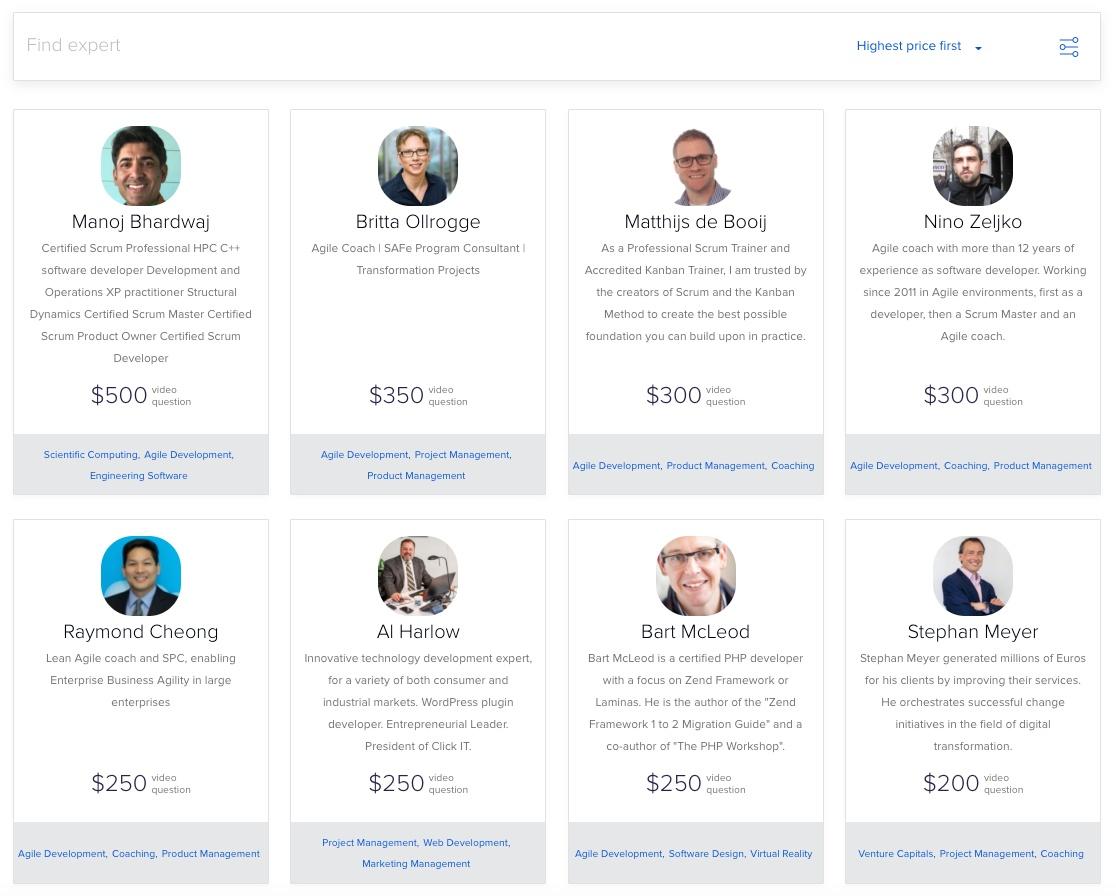 Also, the same functionality is available within Slack when you type /ask command.
That's simply it. With automation and education options, Standuply becomes the first-ever project management team assistant which is our long term vision for the product.
Asana Integration
If you want to run complex surveys based on tasks, Standuply is the only app to make it via Slack. You can run backlog grooming by surveying your team about all tasks from your backlog or gather estimations about spring tasks to save time at the sprint planning meeting.
Moreover, team members can mention tasks they work on simply by choosing them from a dropdown list during their standups. It provides transparency and saves time.
We had two out of the box integrations that support these features: Trello and Jira. And today we're announcing that all the above is possible for Asana as well!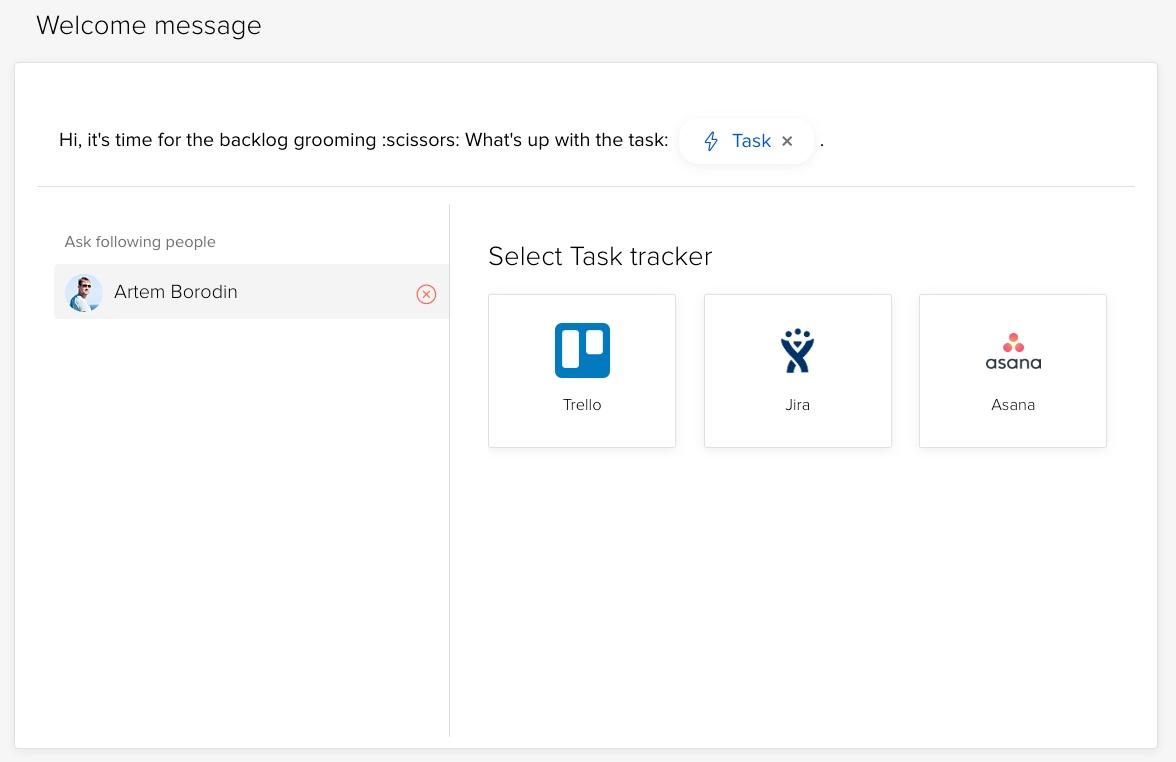 Here's the full list of the workflows/surveys available:
— Ask people about task estimations ('planning poker'); — Ask people about tasks up-to-dateness ('backlog grooming'); — Ask people about finished/in-progress tasks; — Include tasks name and links in a standup report;
Billing history and invoicing at the Standuply website
We want you to have clarity on all charges made by Standuply. Now you can see a list of all the transactions in the Billing section of your account.
Also, when you need to make changes in your invoices, there is no need to reach out directly to us. You can add relevant information and download invoices right from your Standuply account.
Need something more related to billing? Let us know.
The Apphome tab in Slack
Do you know how many reports are you a part of? Want to switch any of them off?
Today, it's possible in a very easy fashion right from Slack.
With a recent update by Slack, apps can have their own home tab with the most important info and options. We decided to show your reports there and allow you to manage them from there. You can pause reports, manage them at a single click.
Thanks, Slack!
Answering before a standup time
It's a feature you've been asking us many times, and here we go. That's right; team members should have an option to answer their standup meetings before the scheduled time.
It's now possible at the Apphome tab mentioned above. Just choose a standup meeting you're a part of and click to run it now. It will initiate a standup meeting.
After you provide answers, the bot won't ping at the scheduled time.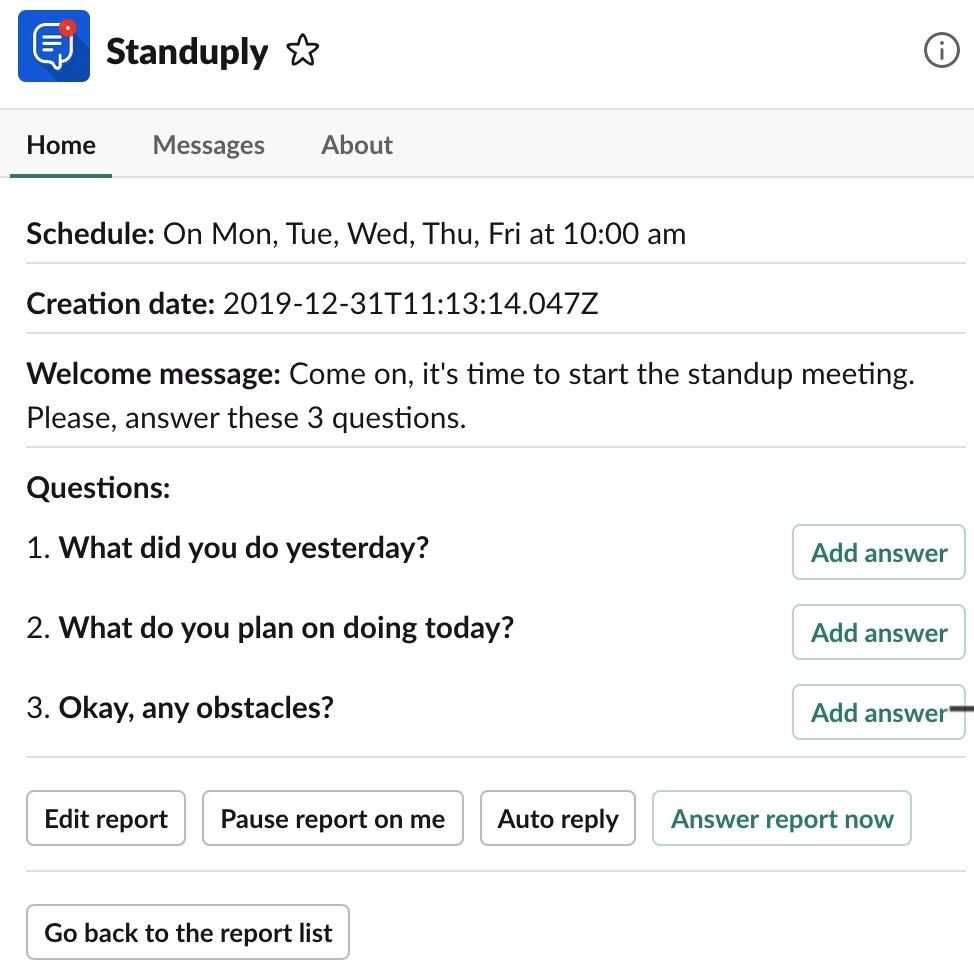 Adding answers to the upcoming standup meeting
If you have a lot of things to mention at the upcoming standup meeting, this is the option for you. Now you can add items along the way to make sure everything will be mentioned at the standup.
Find the meeting you're a part of at the Apphome and select option 'add answers'. The dialog window will pop up where you will be able to enter your answers.
At the scheduled time, you will have your meeting questions, but the inputs you provided will also be there. So all you have to do is to add anything not mentioned before.
Autoresponder
Are you going on a vacation or PTO next month? This feature is for you.
Choose a report(s) in the Apphome to set the autoresponder and configure your message. It works like a 'Vacation responder' in Gmail. Every time Standuply, instead of asking you, will put the autoresponder message.
Don't worry; you define a time period so that it won't last forever =)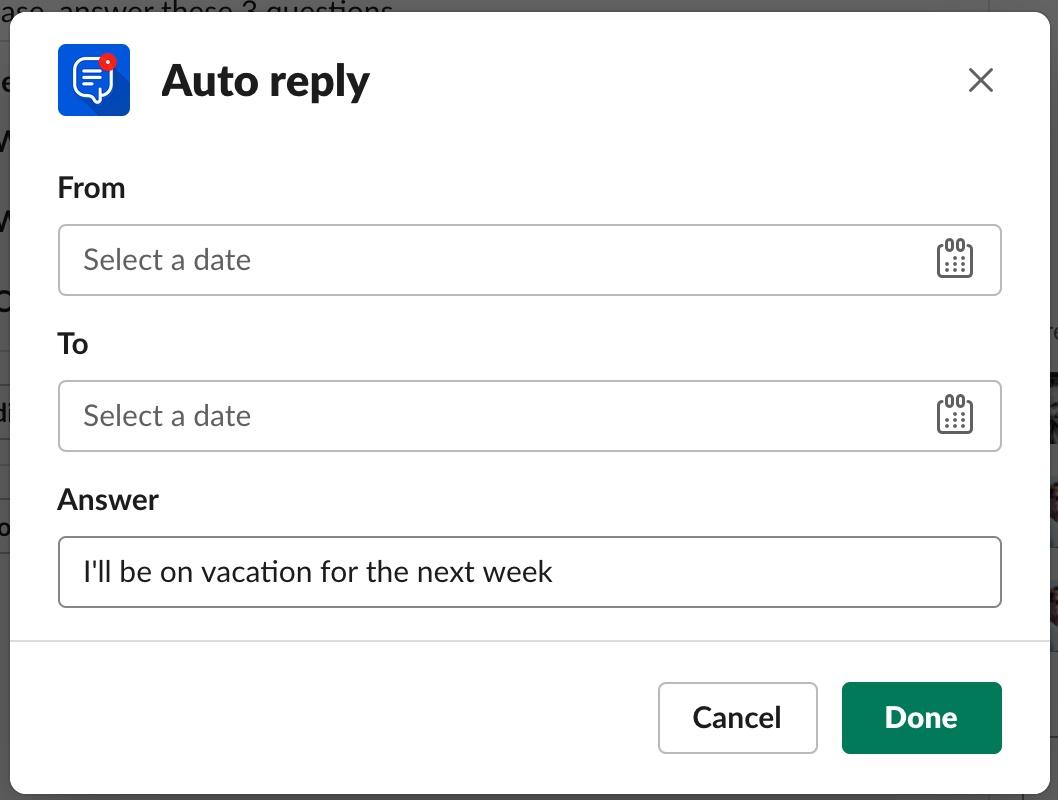 Switching off charts for surveys
It's a basic, but the long waited feature. Now you can switch a chart for survey questions.
With it switched on, your Slack will have less noise when charts are not needed.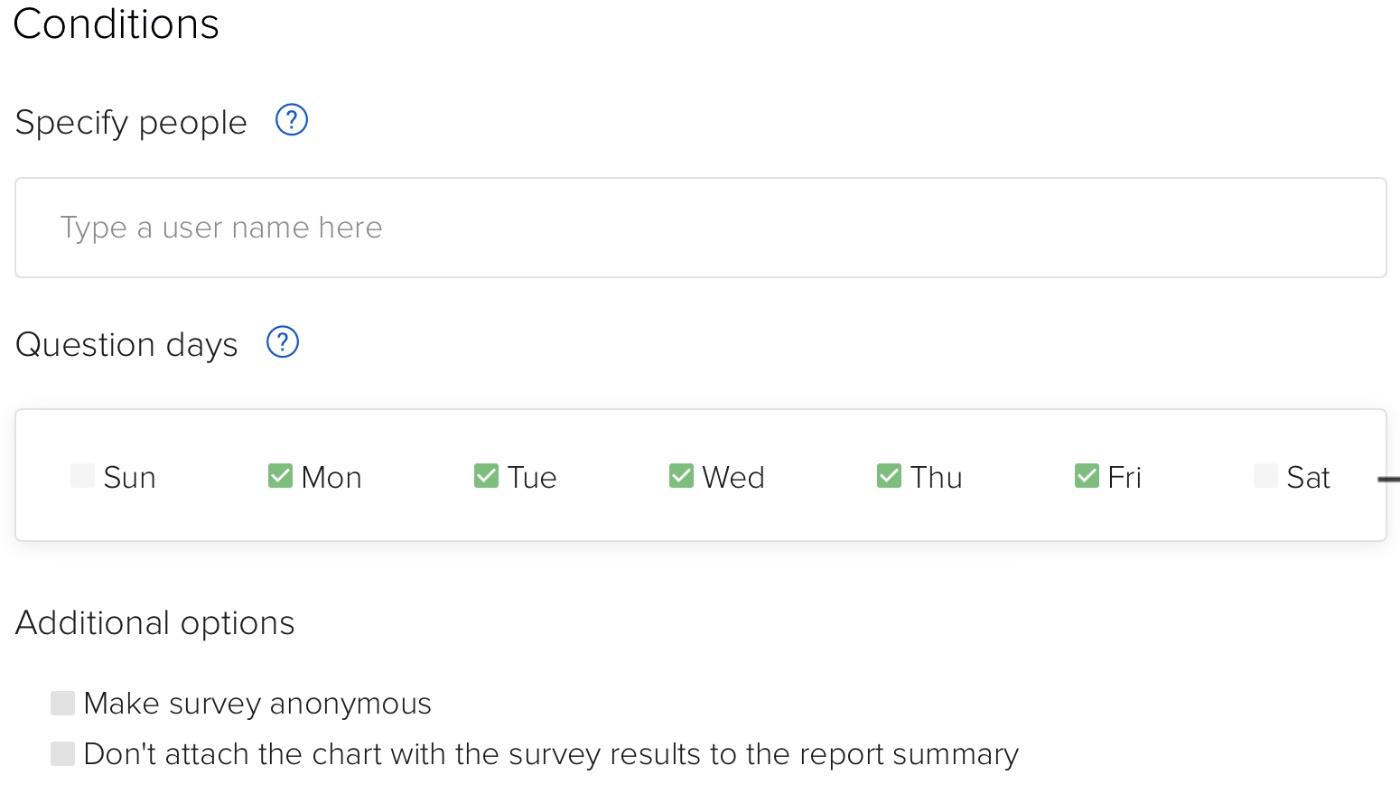 Multi-select dropdown for task responses
There was a limitation when using surveys with integrations (Trello, Jira, Asana) to add task inputs to standup meetings. There was only one option (task) to chose from a dropdown menu. It was purely on Slack's side, and we couldn't change that.
But what if you want to select two and more tasks from the list? Now it's possible!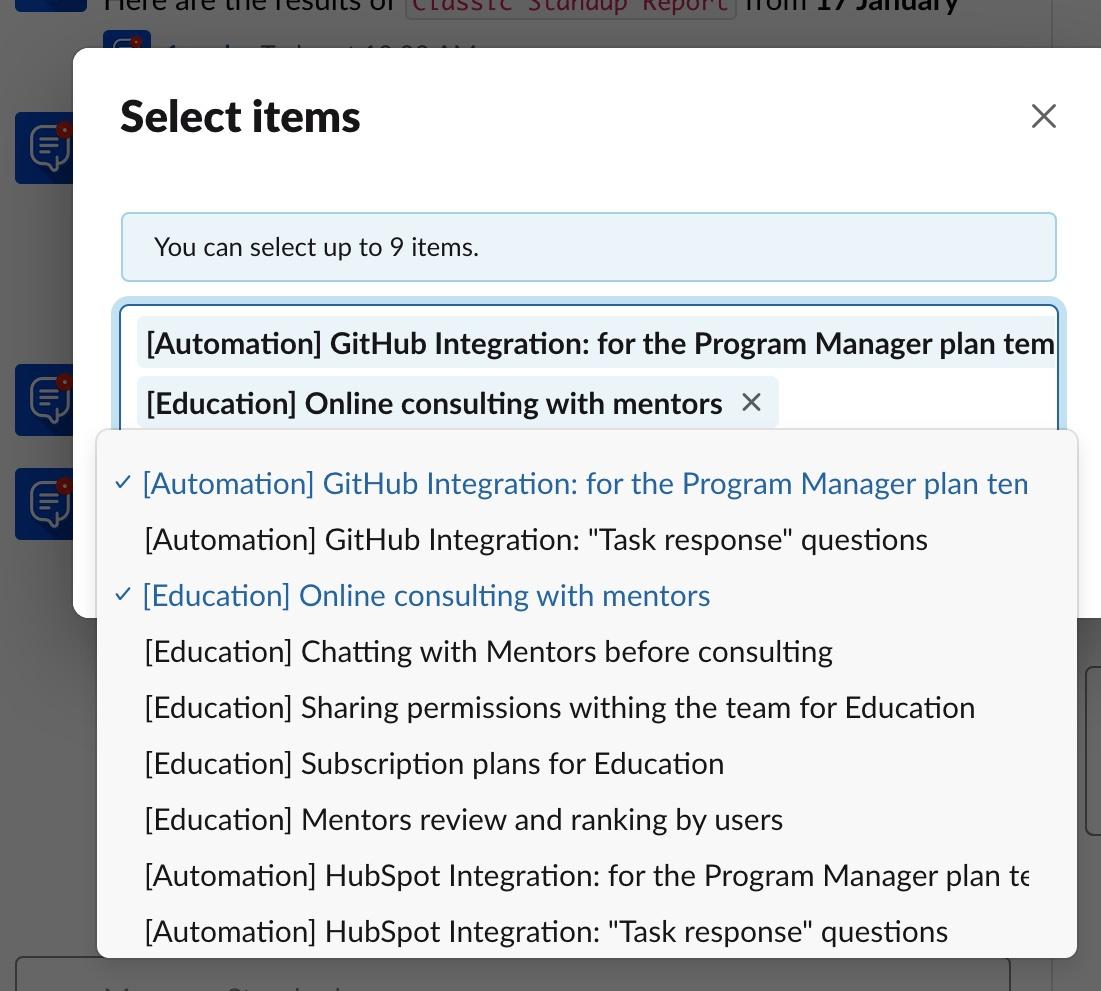 Thanks to Slack's latest update, we can embed multi-select dropdown menus in a Slack app. And that's what we've immediately done with Standuply!
Multi-choice survey questions
This is another great addition, thanks to multi-select dropdown menus. Now you can run surveys in Slack with multi-choice options. It means more flexibility and better quality answers. Enjoy!
New Standuply website
And last, but not least, we've made a brand new website which talks about all these features, our vision, and workflows you can automate with Standuply.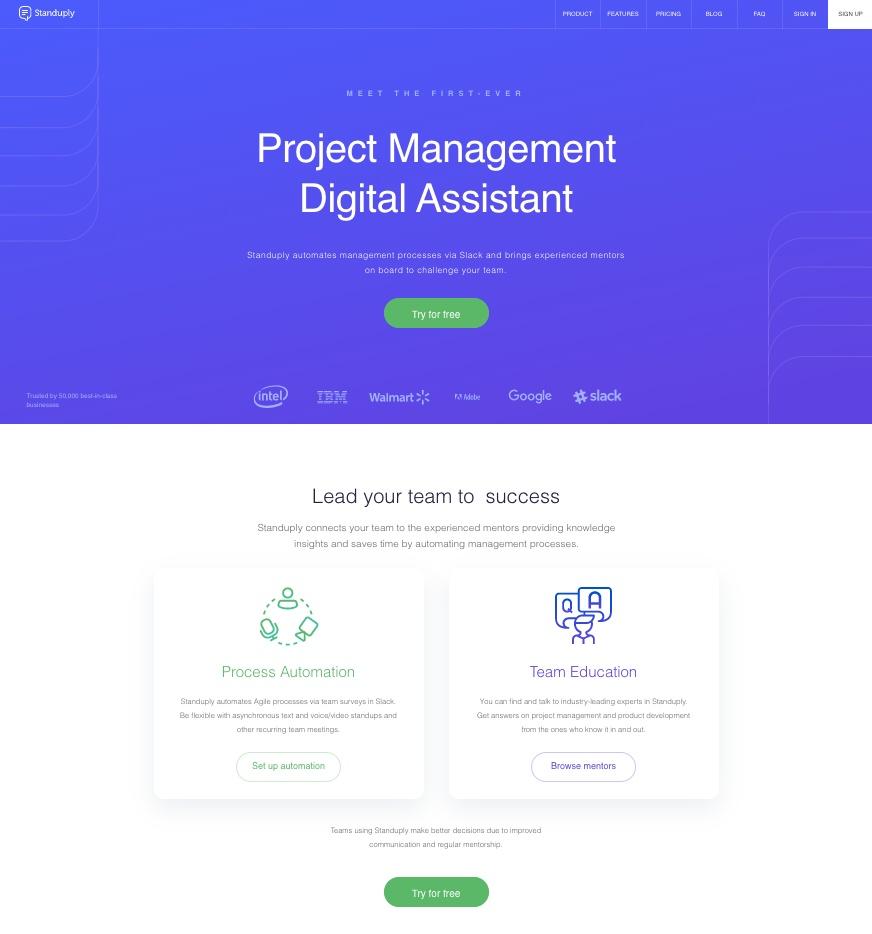 Check it out here and let us know what you think.
Wait, if you were attentive during the reading you may found that I mentioned only 11 presents till this part. But, what about the last one?
Bonus
With so many features on board, we saw a need for the full guide on Agile Project Management with Standuply. So, we did it explaining in details how to automate the most popular Agile processes with Standuply.
As a result, we come up with an ebook on Project Management itself and the automation part.
Check it out here. It can save hundreds of hours for you and your team. Proven by thousands of happy customers.
That's it for now. It's time to get to work to bring you more cool stuff in the future 👨‍💻